COMPANION FCU
UX/UI, Branding
Overview
Companion federal credit union accompanies Hispanic immigrants on their journey towards financial stability. They
build trust in the community and support account holders by providing educational workshops on financial management with the intent of creating a generational impact.
Challenge
Hispanic immigrants tend to arrive in the United States with distrust of banking institutions, lack of education on effective financial practices, and a heavier reliance on family and friends for financial assistance.



Approach
To build trust with Hispanic communities by making use of their reliance on family and friends to transform the community from within. To pair up our conversion efforts with an online banking experience that builds trust through user onboarding, online guidance, and brand identity.

Initial Problem

Immigrant communities are essential to and are transforming the United States. The desire is that these communities would be healthy communities that impact other communities, and the country at large, positively. However, compared to individuals who were born in the United States, immigrants are much less likely to be connected to the financial mainstream, which makes it difficult for immigrant communities to operate in a healthy manner.
Interview Quotes


The interviews helped me understand the relationship between United States banks and Hispanic immigrants from a human perspective. Insights such as prior experience with banking institutions, their way of handling money, why they are banking now, and how they came to trust banking institutions. Aside from the main takeaways, what was glaring was the importance of their need to have someone who is personally there for them for financial assistance.
Takeaways

Ethnic Concentration
High levels of ethnic concentration point to the availability of informal subsitutes, distrust of, and exclusion of banking institutions.
Trusting Family & Friends
During financial stress, Hispanics place their trust in their own family and friends seeking their finaincial guidance, rather than professionals.


Uncomfortable
A lack of education or expereince with technology makes Hispanic immigrants uncomfortable using the United States' modern banking platforms.
Generational Impact
Parent's financial practices may rub off on their children, effecting their future financial practices. In addition, parents are the most concerned with their family's future.
User Persona

Roberto Castellanos

Electrician/ 31 yrs. old
Family of 5/ San Antonio, Texas
Says
"We dont't know what tomorrow will bring"

"I learn from my own experiences"

"My family is my prioity"

Does
Send money to his family in Mexico.

Works with fellow Hispanic immigrants.

Uses his money to buy new tools for work and let's his wife handle small expense.
Thinks
There's no point in using a savings account.

People pass judgement based on his cutural background.

About his children's future.
Feels
Comfortable around his family and friends from Mexico.

Uncomfortable receiving money advice from strangers.

Like he needs to carry his family to success and comfortable living.
How Might We's

Possible Solutions:
Host community workshops to teach users healthy financial practices.


Create a simple budgeting tool that provides tips based on expenses and goals.


Provide user onboarding that is understable and explains the services provided.


Create a slow pace experience through progressive disclosure and asking questions on their comfort level.


Create a brand identity and voice that feels familial and encouraging.


Use personal relationships to create trust and be able to speak into the user's lives.


Invite community members to take part in outreach and bring in others to the fold.


Create leaders in the community that are capable of teaching family and friends healthy financial practices.


Place user's focus on the positive impact they can have on their family.
The "how might we" questions arose from the pain points Hispanic immigrants face in using the United States banking system but also from the challenges banks face in attracting a Hispanic audience. This step was important for forming the basis of my final solution and identifying how an interactive service could be used alongside my solution.
The Act of Accompaniment
How?
Transforming an entire community can be a daunting task especially when taking into account the generational impact we want to have. My solution is focused on creating personal relationships with our users through small groups of 3-4 users, forming them in healthy financial practices, and training them to do the same for others.
Why?
This method makes use of ethnic concentration and Hispanic immigrant's inclination to rely on their own family and friends for financial assistance – evident in my secondary research and interviews. Instead of trying to inject ourselves into a community we can create leaders already part of the community to influence those around them. This process is sustainable and begins to acclimate a community into the United States banking system as time continues rather than a quick one-time attempt.
Users will have the opportunity to grow in financial practices through an Accompaniment Group, beginning the process of transforming their life, family, and surrounding community.
Solution

Companion Federal Credit Union will provide basic banking needs to Hispanic immigrants and its mission will be to build trust between Hispanic immigrants and the United States banking system. Trust will be built through the Accompaniment Groups Companion FCU offers, as well as through its brand identity and voice on any digital screen or physcial experience users come accross.

Wireframes
Wireframes Round 1
Users appreciated the progress bar at the top of the screen but were saddened it did not remain visible as you scrolled down.


Users believed the progress bar was oversized and distracted a bit much from the information that was important.


Progress bar numbers were unnecessary.
Users continued to scroll down and were distracted by the preview of the following steps.


Need to remove the previews and allow the information for the current step to be the focus.
Wireframes Round 2
Users appreciated the personal responses they were able to choose and felt understood.
4/5 users felt like they could relate to at least 3 of the written responses.
Spanish grammar, specifically when talking about financial practices, needed to be clarified.
Help button was too hidden.Users were curious as to what kind of help they could receive over the phone if they were unable to describe the screen.
5/5 users suggested the help button should lead to a video call in which a representative could see their screen and provide detailed help.
Wireframes Round 3
Users wanted to see a more personal page, regarding who would be a part of their small group.
Users questioned why they couldn't connect with other family or friends who were part of the credit union.
4/5 users mentioned Facebook and Whatsapp as a way of staying connected with their family and friends.
Join the Family

Proposed Trademark
Final Website Experience

As new members make accounts and log in online the priority is to get them into an Accompaniment Group. The onboarding slides highlight services and key features of the website to orient users to the new spaces and makes sure to point out the "Companion" specifically.

Members attempting to sign-up for an Accompaniment Group will begin with a bit of information on the purpose of the small group. Personal questions help identify where the user is financially and how comfortable they are with being a part of the group. Finally, users have a good deal of control over the members of their group, allowed to connect with fellow family and friends within the credit union or use Facebook and WhatsApp as a form to invite others in.
Once a part of an Accompaniment Group, the services and features within Companion FCU are enhanced! Being a part of this group allows for members to receive the aid they require and begin the process of creating a generational impact. However, those that choose not to be a part of a small group can still make the most out of their experience through the transparency in our forms. Additionally, a video call feature allows users to get 'face to face' help, something Hispanic immigrants greatly appreciate.
Budgeting tools seem to be used sparingly amongst Hispanic immigrants, so simplicity was key in creating this function. What stands out is the tips feature which gives guidance, even in small increments to those who struggle to improve their spending patterns.
Banking Through Text
Serving Low-Tech Users

Four out of the six Hispanic immigrants that I interviewed shared feeling uncomfortable with using technology. This was in response to my question regarding online banking and banking apps. Their level of comfort was based off not being exposed to enough of these services and feeling inexperienced with using them, however many also shared being comfortable using a phone. Therefore, the best way to serve these users was with banking through text.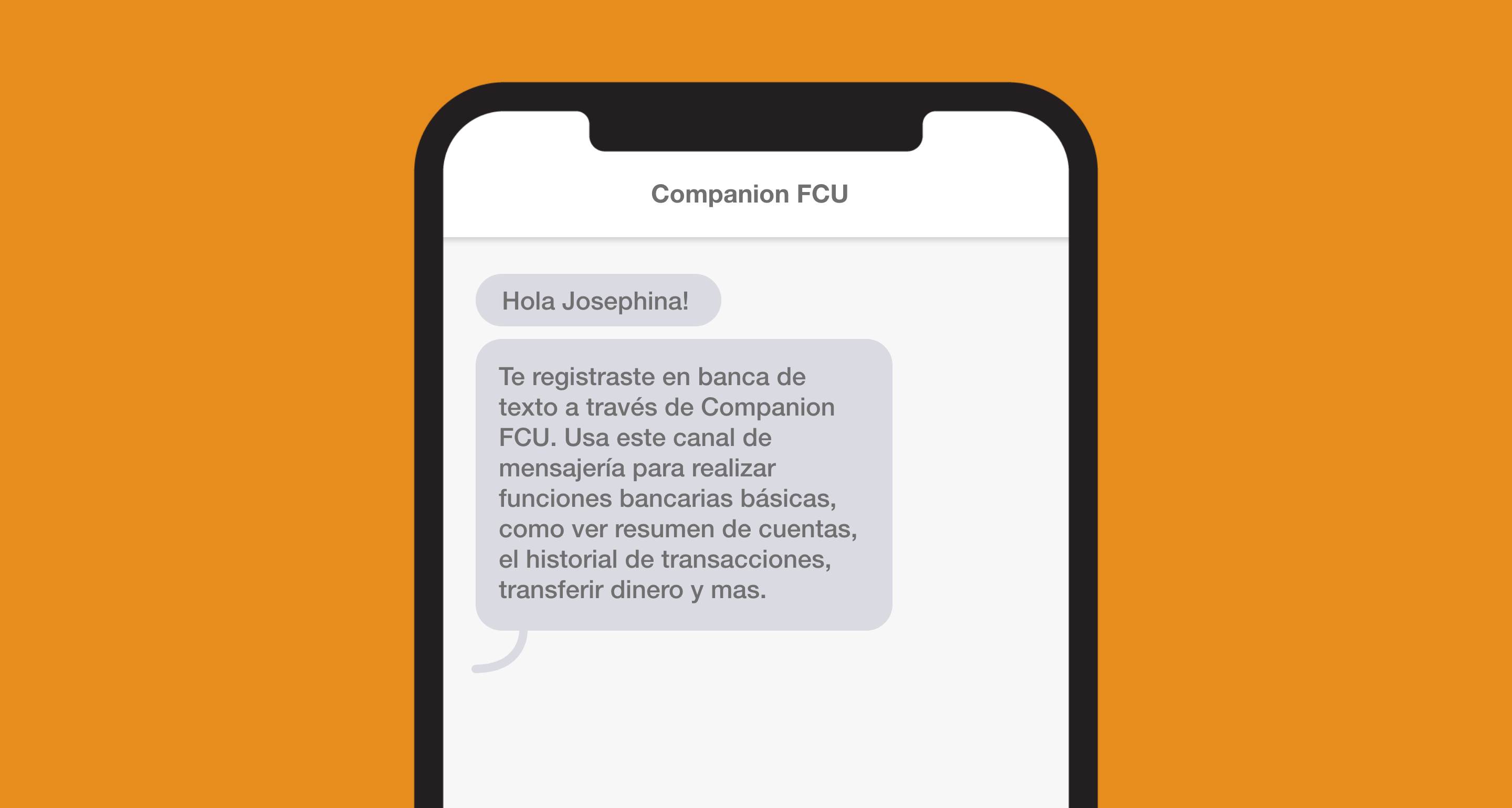 Text Commands

Commands
Receive a list of possible commands to send.

Balance
View the balance of all accounts.
Balance + (Name)
View the balance of a specific account by specifying its name.
History
View the last five transactions
of all accounts.
Histoy + (Name)
View the last five transactions of a
specific account by specifying its name.

Transfer
Begin the process of transferring money between accounts.
Send Document
Begin the process of ordering a mail in document.

Freeze
Be safe and put a hold on any of your
missing cards.
Stop
Put an end to your bank through text experience.
Mail Banking

Mail banking has proven effective in the past with banks, before the implementation of technology, and is implemented in Companion FCU to serve low-tech users who are in need of filling out documents such as deposit slips, micro loan applications, and Companion FCU's very own Accompaniment Group Application. Through text banking, users can request a form be mailed-in to their home and receive the necessary resources they need to return the filled-out form.
---
What I Learned
A digital expereince will not always replace the impact of a personal experience. My experience with evangelization in the church was able to become the basis of my solution to bring about change in a community by accompanying users in a personal way and allowing the digital experience to be supplementary.


Further Developement
Expand the services that go beyond a digital experience and give greater access to the target audience. This includes, designig a physical space, ATM's, and the use of mail banking. These additional touchpoints compliment the current solution and keep in mind the users who are low-tech and trust a physcial experience over a digital experience.